1990 - Ethel Ann Constantine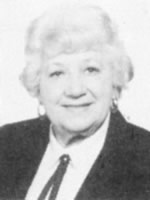 Star of Yesteryear doesn't necessarily mean you're not active. Ethel Ann has been bowling for a long time, having participated in 55 WIBC Tournaments. A true pioneer in the sport, Ethel Ann began her career in 1924 and is still a member of two leagues. 
Between 1937 and 1947, she won many titles in the Michigan Women's State Tournament. On the Grand River-Livernois Team, they won 1st place with a score of 2688. The Olympic Team, of which she was a member, won in 1943 and again in 1946. She was also a Doubles Champion twice, with Bettey Chapman in 1944 and with June Roussin in 1947. Rolling a score of 623, she won the singles Event in 1945. 
Her highest game of 279 was achieved in the City Tournament, along with a series of 653. Locally, she was a Singles Champion in 1942 and, with Helen Stollberg, won the doubles in 1964. 
Ethel Ann can boast of carrying a 183 average when such averages were few and far between. Try as she may, she could never top her high series of 679. 
Another title of which she is proud is being named to the Detroit Bowling Hall of Fame in the 1980/81 season. 
Ethel Ann keeps active and in touch with her friends by bowling in two leagues in the winter and golfing twice a week in the summer.
She is truly a star, not only of yesteryear but of the present also. Our best wishes are extended to her.