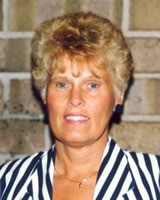 Joyce has several accomplishments in her bowling career the first one being that is where she met her husband. But, the one she couldn't believe is the one she is receiving today. When she received her notification letter she thought a joke was being played. But, after several telephone calls she was convinced. 
To be nominated for Superior Performance you must have won at least one (1) Actual State Title.
In the State Tournament Joyce was the Singles Champion twice. The first in 1989 when she rolled her first career 700 series and the second in 1993 in her home town when she had her second a 753. She also won the handicap all-events in 1989 and the handicap singles in 1993.
Joyce rolled her first 300 game in 1996 and has several games of 275 plus. She is a consistent bowler carrying an average of 185 or better for the past six (6) years.
She also did very well locally. She was a member of the first place Actual Team in 1999 and 2000, Actual Doubles and All Events in 2003.
Joyce qualified for the Battle Creek Senior All Star in 2004, 2005 and 2006. 
She recently had shoulder surgery and we wish her the best of luck in continuing her bowling accomplishments. 
CONGRATULATIONS JOYCE – WELCOME TO THE NEW MICHIGAN STATE USBC HALL OF FAME