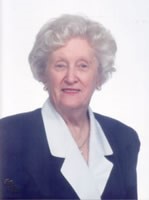 Meritorious Service – 2007 Dorothy Thompson DEDICATION, HARD WORK AND WILLINGNESS best describes Dorothy Thompson our 2007 inductee for Meritorious Service. 
50 years ago Dorothy received a telephone call asking her to work in the Detroit WBA office a few hours a week. She agreed with stipulations. That was all it took and she stayed for 42 years. She served 15 years as a director, 5 years 2nd vice-president, 3 as 1st vice and 13 years as president. This was and still is the largest membership in the Nation. But I guess that wasn't enough to keep her busy. Plus raising two daughters. In 1998 she was elected to serve on the Michigan WBA Board as Director # 1. 
On the State level Dorothy has served as chairperson for the Awards & Service, Delegates Reception and Luncheon and Housing Committees. She has also served on the Champion Awards Banquet, MWBA 75th Anniversary, Legislative, Membership Promotion, Pioneer Club Dinner and Tournament Rules Committees. Plus attended several State Leaders Workshops and conventions. 
For her dedication and service the following honors have been bestowed upon her. Member of the Detroit Hall of Fame for Meritorious Service, BPA Secretary of the Year in 1987, the Howard McCulllough Award in 1991, the Tom McKay Award in 1998, Detroit WBA Women Bowler of the Year 1998-99 and the Judge John D. Watts Award in 2004.
I'm sure you will all agree that Dorothy qualifies for the Meritorious Service Award.
CONGRATULATIONS DOROTHY – WELCOME TO THE NEW MICHIGAN STATE USBC WBA HALL of FAME