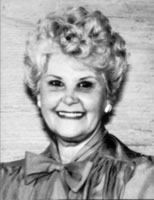 Bonnie has been involved in bowling for many years, as a bowler, a league officer, and goodwill ambassador. 
During her bowling career, which was curtailed by an injury, she maintained an average in the 190's, the highest of which was 197 during the 1970/71 season and again in 1984/85. Her highest game was 298, two pins shy of perfect, in 1983/84 and a 289 in 1987/88. Her highest series was 749 in 1988/89 and, to her credit, she has five other 700 series, 723, 717, 711, 706 and 702. 
In the State Tournament, she was on the Bob Chamberlain Team when they rolled 2812 to win the championship in 1987. She was also on the Pine Tree Lounge Team when they won in 1975 with 2803. 
Locally, she was on the Dependable Team when they won with 2917 in 1973. She also was the All Events Champion in 1979 with a score of 1784. 
Bonnie was a member of the Detroit WBA Queen's Court in 1979/80 and Captain of All City Teams in 1974 and 1977. Made the No. 1 team in 1979/80, 80/81 and 84/85 and the No. 2 Team in 1976/77. 
She has earned other titles as well. Among them, the Hoinke Ten Game Scratch Ladies Singles in 1974 with 2018 for ten games. The Champion of Champion Tournament twice and the Chicago American Team Tournament in 1969 and 1970. 
A stand-out performer, Bonnie joins other greats in the Michigan Women's Bowling Association Hall of Fame.