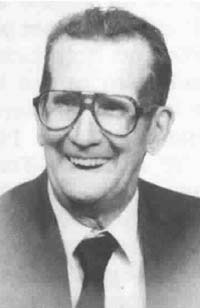 Murl served 17 years as the Midland Bowling Association Secretary and Treasurer. He is a life member of the Midland Association having served over 40 years on the Board.
He was Bowler of the Year in 1962 in Midland and made the All City Team in 1970. Murl was elected a director of the Michigan State Bowling Association in 1975 and was elected President in 1983. He was awarded Life Membership in 1984. He was awarded the Meritorious Service Award in 1978 and the Yearbook Dedication Award in 1993.
Murl was elected as a Charter Member of the Midland Bowling Hall of Fame in 1984 and the Midland County Sports Hall of Fame in 1994.
He served on the Michigan State Senior Association Board of Directors for many years and as Secretary and Treasurer for 10 years. The tournament prospered due to the hard work and dedication shown by Murl.
Murl has bowled in more than fifty Michigan State Tournaments and nineteen ABC Tournaments.
Murl is a young 89 years of age and still finds time to lend a hand to the Bowling Community.