2005 - Julie (Hall) Oczepek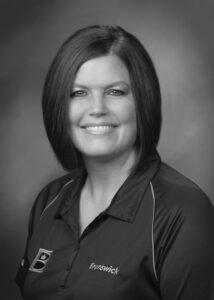 Julie is certainly an outstanding bowler carrying a 200 average for the past few years, with 226 her highest during the 2002/03 season and 224 in 2003/04. Along with high averages, she was skillful enough to roll at least one 300 game during the last four seasons. She also had many 700 series, 784 during the 2003/04 season and a high 826 in 2003. She is credited with tying the National Records for having the most 800 (3) series in one season. She also held the highest average, 218, in Saginaw. 
When bowling in the National Tournament in 2004, she rolled a 289 game in her singles.
Locally she won many events, Actual All Events and Doubles and was a member of the Champion Team in 2003 when they rolled a total of 3085. 
Her most prestigious honor was winning the MWBA Queens Tournament in 2002 carrying a 221 average. Participating in five tournaments, she placed 3rd in 2003.
Julie makes a great addition to the ranks for Superior Performance and we wish her many more years of outstanding bowling.