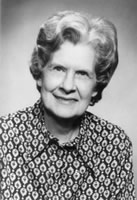 Recognizing her many years of service and dedication, Adeline is deserving of the Meritorious Award in the Michigan Women's Bowling Association Hall of Fame. 
At the time of her death, Adeline was serving as 2nd Vice-President of the Michigan WBA. Up to that time, she served in many capacities – 3rd Vice-President for 1 ½ years, 4th Vice-President for 2 years, 5th Vice-President for 1 year and Director for 10 years, being elected to the board in 1967.
Adeline was Editor of the "Ten Pin Topics" and served in that capacity for 14 years, as well as being Publicity Chairman. She was on many committees, and on the Legislative Committee the longest, 17 years. 
She was a board member of the Michigan State Junior Bowling Association for 12 years and served as Secretary-Treasurer 2 years. She was also Secretary of the Fruit Belt YABA for 15 years, conducting two junior tournaments each session.
The office of 1st vice-President of the southwestern Women's Bowling Association was held by Adeline for 24 years and she was a member of the Board of Directors for 27 years.
Adeline will be remembered for her willingness to help and provide assistance. She was a dependable and dedicated member of the State and Local bowling families, carrying out numerous and varied projects.