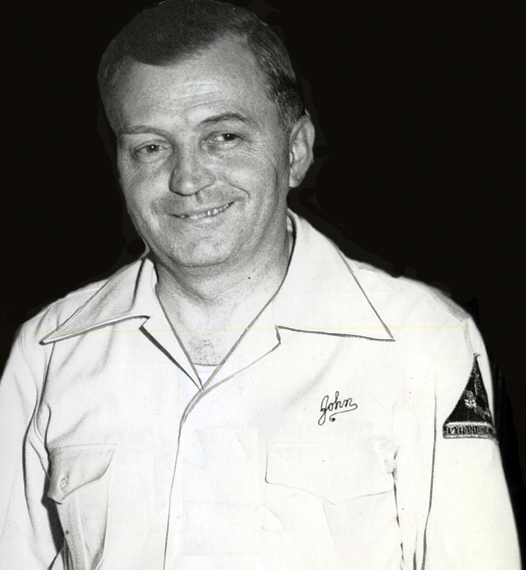 John was born in Toledo, Ohio in 1895. He was considered one of the all-time greats in bowling.
He was a controversial person from whose fiery temperament stemmed his nickname, "The General". One story was that he toured as the "masked marvel" but there were few in the Detroit area that didn't recognize him in his heyday. He once held the national match game title and was the first bowlers elected to the Polish-American Sports Hall of Fame.
John joined the Stroh's team in 1934 and this team won every major team title of that time. He also competed in the international tournaments in New York in 1934 and Germany in 1936.
Bowling in the ABC tournaments his team (Fife Electric) took first place in 1939, 2nd place (with Tivoli) in 1935,10th in singles in 1957 and had the best average 10 years in a row (thru 1947) which was a 203. His average over 40 years of bowling was an impressive 195.
In 1937 at the Elk's national tournament he shared all four titles: team, doubles, singles. and all events.
He rolled five 300 games, had a high series of 811 and 805, won the state doubles in 1936 and 1945, along with the all events also in 1945. John was among the average leaders in the All-Star Classic and led in 1937-38 with 205, 1938-39 with 209, 1943-44 with 205, 1944-45 with 205, and 1946-47 with 204.
John was certainly one of the finest bowlers in the history of the game. He was voted "Bowler of the Year" by the Bowling Writers Association of America in 1942. He was elected to the Detroit Hall of Fame in 1959 and the ABC Hall of Fame in 1962.
A welcome addition to the Michigan State Bowling Association Hall of Fame.