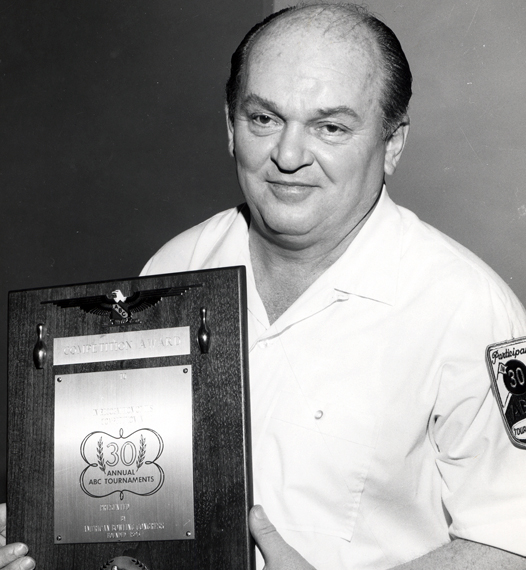 Therman (Gibby) won his first major title in Michigan at the age of 22 by taking the State tournament All events title in 1939. He also won the All events in 1944 and 1958, the state doubles in 1944, 1946 and 1948, city doubles in 1946 and was a member of the outstanding E & B and Pfeiffer's teams that won the ABC team titles in 1952, 53, 55, and ABC All events in 1949,50,53,and 55.
This team also won five BPAA World Championships. Included on that team were:  George Young, Fred Bujack, Lou Sielaff, Chuck O'Donnell, Don Carter and Bill Bunetta. All are in the Hall of Fame.
He once bowled a 268 triplicate. Gibby thrilled the nation, when he won $75,000 for rolling six straight strikes on the Jackpot Bowling TV show on Jan. 2, 1961. This was the largest cash prize won in bowling at that time.
 He also was a member of five BPAA team champions under the E&B banner and earned 18 additional titles in other tournament competition. He racked up an average of 202 for 460 games and along the way made the all-star finals three times and won the BPAA National Doubles title with George Young in 1947. In the early 40's Gibby traveled the country and earned the reputation that led him to stardom for the remainder of his career. In his travels he amassed over 20 major tournament victories plus countless wins in sweepers and lesser known events. One of his titles was the Petersen Classic in 1945.
He was elected into the ABC Hall of Fame in 1965 and he was one of the  very few ever, to receive the unanimous vote of the committee on the first ballot, to be elected into Detroit's Bowling Hall of Fame in 1969. He was inducted into the Michigan Amateur Sports Hall of Fame in 1973.
His induction into the Michigan State BA Hall of Fame was in June 1996.