1996 - Joseph George Joseph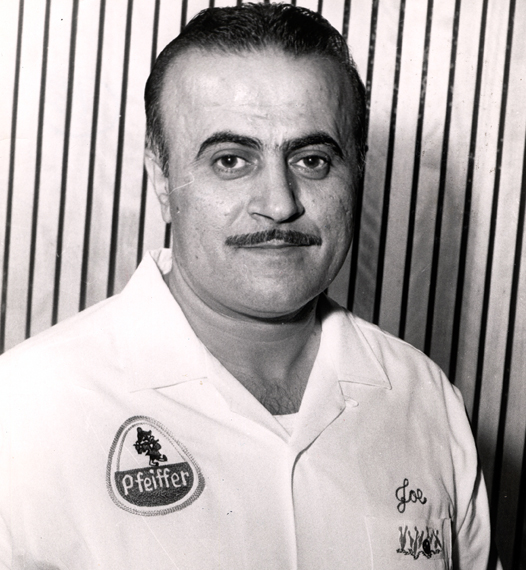 Joseph, noted for one of the smoothest deliveries in bowling, was an outstanding semi-pro football player and fast-pitch softball pitcher in his younger days.
However, he made bowling his major sport and went on to win three USBC (ABC) Open Championships titles, Team Event in 1959, Team All Events in 1959, and 1st place Classic doubles in 1963. There were also several 2nd, 3rd and 4th place finishes. His average for 29 years of ABC competition was 199.97 and he averaged 210 during his 180 games in the ABC Masters tournament.
He won the first Tournament of Champions in 1962, after winning his first pro (PBA) tournament in St. Louis that same year.  
In the Worlds' Invitational he bowled in 4 finals with a 502-game average of 210 and also rolled two 300 games. He had many other titles including: Bowlerdrome, in 1952, Maury Singles in 1950, Timberlane, 1955 Olympic 1958, Wonderland Classic 1959, and Central States doubles in 1960.
In BPAA events, Joe made four finals with a 912- game average of 205, placing first in 1962 in the doubles portion.
He was a member of the Bowling magazine "All American 1st team" in 1961, 2nd team in 1960, 1962 and 1963. He teamed with Tommy Hudson to win the "Great and Greatest" tournament in 1978 in Las Vegas.
After his retirement from competition, Joe continued to work for Brunswick Corp. as an ambassador for bowling.
He was inducted into the Lansing Sports Hall of Fame in 1976, the Lansing Bowling Hall of Fame in 1987, Michigan Sports Hall of Fame in 1980, ABC Hall of Fame in 1969, Detroit Hall of Fame 1986, and the Michigan State BA Hall of Fame June 1996.