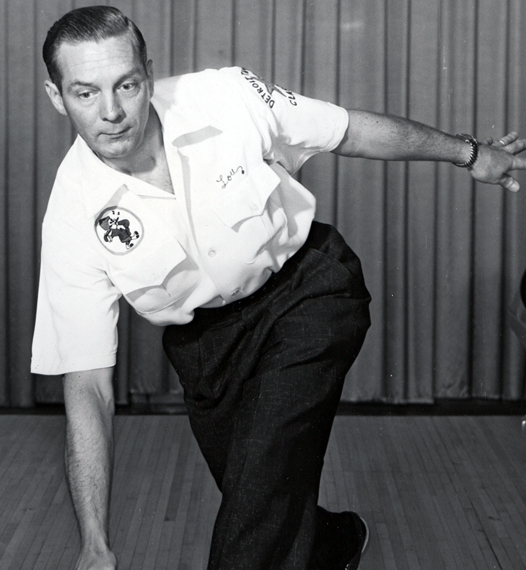 Lou was one of the best liked stars of his day. He captained the Pfeiffers team from its organization as E&B in 1944 until 1958 when he turned the reins over to Ed Lubanski. E&B was one of the best teams of all time. The four main members over those years were Lou, Therm Gibson, Fred Bujack and George Young. They also had Don CArter, Bill Lillard, Bill Bunetta and Chuck O'Donnell in different years. These teams won five BPAA World Championships, ABC Team titles in 1952, 1953 and 1955. They also won ABC Team All Events titles in 1949, 1950, 1953 and 1955, Michigan State Team titles in 1950, 1955 and_ 1958, and City Team titles in 1946, 1947, 1952, 1954 and 1956.
Lou also won the Michigan State Singles in 1957, City Doubles in 1936, 1940, 1944 and 1956, and City All Events in 1951 and 1956. He had two sanctioned 300 games and he also led the All Star Classic in average in 1948- 49 with 207. His high average was 200 in the Detroit Major in the 1944-45 season.
Lou was one of the best team captains and also one of the finest bowlers in Detroit history. He was elected to the Detroit Bowling Hall of Fame in 1963 and to the ABC Hall of Fame in 1968.