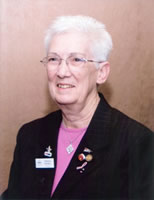 Patricia is very deserving of the Meritorious Service Award having worked her way up from delegate to director to Vice president.
Her service to the Michigan Women's Bowling Association has been overwhelming. Is the 3rd Vice-President and has held that position for four years, was 5th Vice-President for two years and a Director for fourteen years. Has served on many committees: Finance & Budget ten years and Chairman four years, Michigan Queens Tournament Chairman Thirteen years, Membership Promotion Chairman ten years, and Ad Hoc Committee. Those are the present committees she is working with. In the past, she served on the Hall of Fame Committee, Tournament Opening, Tournament Rules, Tournament Housing, Delegates Reception, Awards & Services and Scholarship. 
Not only is she active in the State Association, she is also Secretary of the Tri-City Association, holding that position for twenty-three years. For the good job she has done there, she was named MWBA Secretary of the Year in 1989 and Tri-City inducted her into their Hall of Fame in 1990. 
Along with the above, Pat is Secretary-Treasurer of the Tri-City 600/700 Club for the past eight years, as well as Local Youth Scholarship Committee & Tournament Secretary-Treasurer for eight years. 
She also finds time to attend the MWBA Local Officers Workshop, WIBC State Officers Workshop, WIBC Leadership Seminars and has been a delegate to the WIBC Annual Meeting twenty-six years.
And, if you've bowled in the State Tournament, Pat is there as the MWBA Tournament Assistant Supervisor and has done this for fourteen years. 
Besides all these activities, she bowls too. 
We know Pat will continue to be of service to the State and her Local Association and we wish her continued success in all her endeavors.