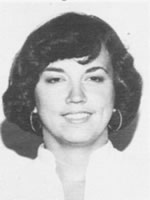 Although Kathy has been bowling quite a number of years, having been a member of the Ladies All Star Classic League in Detroit for 18 years, she gets better each year. She has a national ten-year composite average of 194.5 and, at one point this year, reached 200. 
To her credit she has many 700 series, rolling three this season – 748, 728 and 724. She was able to accomplish every bowler's dream by scoring the perfect game of "300" – and in a tournament too – in the Hoinke. 
In the State, she won the All Events in 1972 with a score of 1838. With Elvira Toepfer as a partner, won the Doubles in 1976 with 1191. Was Singles Champion in 1975 and was on the Jac Ro Die & Engineering Team when they were Champions in 1977. She has participated in the Michigan Queens Tournament each year and almost made the Step-Ladder finals in 1986. 
Her other titles include Champion in the Detroit WBA City Tournament Doubles Event in 1975 with Anita Cantaline, and Team Event in 1976. She has been a member of the Detroit All City Teams for several years and Captain four times.
In addition to the statistics listed, on and off the lanes, Kathy has truly been an ambassador of good will and we wish her much luck in all her endeavors.