1994 - Mary "Sis" Thornley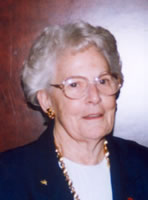 Bowling for more than forty years, Mary became involved in all aspects of the game. She helped organize the Port Huron Junior bowlers, was local association secretary for more than thirty-five years, and even bowled (currently in two leagues). Mary made the "All City" Team ten years in a row. She was inducted into the Port Huron Sports Hall of Fame, and became a life member in 1989. She organized, and led, the Senior Tournament. Mary has been involved with the Blue Water 600 Club, Blue Water YABA and was Vice-President of the Blue Water Council. 
Mary became involved in the State Association as a Director and served in that capacity for ten years. She also served as 5th Vice-President, 4th Vice-President, 3rd Vice-President and is currently in the position of 2nd Vice-President. A very capable worker, she has served on many committees – Finance & Budget, Awards & Services, Scholarships, Hall of Fame, Legislative, and is currently Chairman of the Honorarium and Tournament Rules Committees. She very ably handles the Michigan Luncheon at the WIBC Convention, finding an accessible site and choosing a menu that pleases all. She was named Michigan WBA Secretary of the Year in 1988.
In her "spare" time, Mary is a hospital volunteer and even finds time to golf. All this and raising a family too. 
Mary is very deserving of the honor of being inducted into the Hall of Fame for Meritorious Service.